IPA
---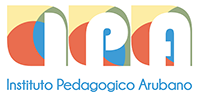 ---
The Instituto Pedagogico Arubano (IPA) is an institution for higher vocational education that trains students to become teachers at pre-school, primary school and secondary school level. The programs start with a general orientation year for all specializations, followed by a profession-specific phase. In their third year students complete an internship abroad (among other things), which is followed by their final project. Minimum admission requirements are a HAVO or MBO diploma, plus admission tests. The programs are of 4-year duration. The institute offers the following teacher-training programmes:
Teacher training for children aged 4-8;

Teacher training for children aged 6-12;
These programs grant the qualification of Fully Qualified Teacher (Volledig Bevoegd Leerkracht).
The institute also offers part-time refresh courses (pedagogisch didactisch getuigschrift ('certificate of education', 1½ years), remedial teaching for secondary students (two years) and remedial teaching for primary students (two years).
---
Info / Contact
Instituto Pedagogico Arubano (IPA)
Scroll To Top