The University of Aruba goes digital
April 22, 2020
---
The University of Aruba (UA) invites you to learn more about the different study programs they offer and encourages potential students to prior-register for the study program of choice.
---
Prior registration
To protect your health and support your learning during the ongoing Corona virus pandemic, the University has moved to providing online information about our study programs and prior registration for all prospective students. We invite you to learn more about the different study programs we offer and use our prior registration form and choose the study program of your choice.
The purpose of this prior registration form is to gather information from our prospective students and to assist in the transition to become a student at the University of Aruba for the academic year 2020-2021.
---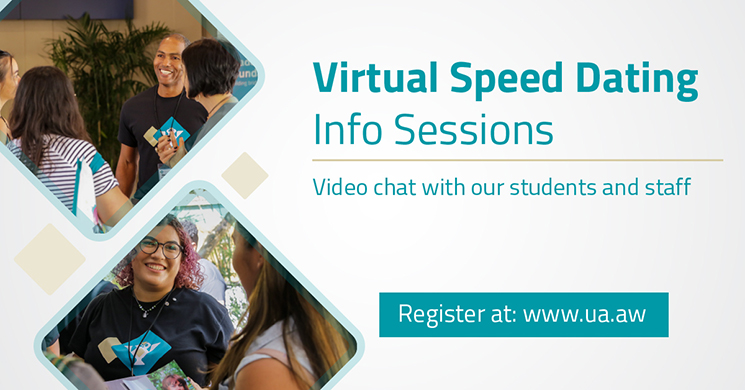 ---
Videos, live chat and speed dating options
The UA invites potential students to connect with their students, lecturers and other staff members by signing up for a speed dating session.
Even though we had to cancel our Open House, we would like to offer you the opportunity to get the information you need. In quick, 15 minute 'speed dates', you have the opportunity to ask questions in a group meeting or individual meeting with one of our students or lecturers. This way, you will be able to ask questions and gather more information about the University of Aruba and the study program you're interested in.
The speed dating information sessions will be organized through Zoom or Google Hangouts.
Register here:
Follow the University of Aruba on Facebook for different informative videos and live chats which we will organize every Wednesday at 3:00 P.M.
We hope to connect with you! For more information, feel free to send an email to osa@ua.aw
---
Arubalening pa studia na UA
Land Aruba ta brinda esnan cu kier sigui studia un prestamo pa estudio: "Arubalening". Pa studia na University of Aruba e studiante por bin na remarca pa e producto "Arubalening UA". Mas informacion:
---
Info / Contact
Pa mas informacion por busca [U] University of Aruba den e alfabet menu riba homepage of tuma contacto directo cu UA.
Scroll To Top