Social Work & Development Bachelor Program
May 13, 2022
---
The University of Aruba is proud of the quality and achievement of its Social Work and Development (SW&D) Bachelor program.
Its graduates are valued and productive employees in positions of social work team leadership and contribute to policy discussions in the non-governmental organizations and the public sector. Our SW&D graduates are also working in human resource departments in the private sector and making contributions to well-being programs for employees.
As the program is faced with a sudden shortage of staffing, the program will not start a new cohort of 1st-year students. Therefore, there will be no registration for the Social Work and Development bachelor program for the new academic year 2022-2023. The program SW&D will resume recruitment of new first-year students in May 2023 for the academic year 2023-2024.
---
SW&D 2023-2024
The Social Work and Development and University of Aruba will be working on staffing and taking the opportunity to renew and strengthen the program in collaboration with local, regional and international partners in order to continue to guarantee a quality program for current and future students.
---
Academic year 2022-2023
Students interested in social work are invited to visit our UA website for other programs such as the Academic Foundation Year or other bachelor programs.
The SW&D program looks forward to being able to welcome registrations of first-year students again in May 2023.
For more information, please contact the Dean of the FAS, Dr. Mieke de Droog.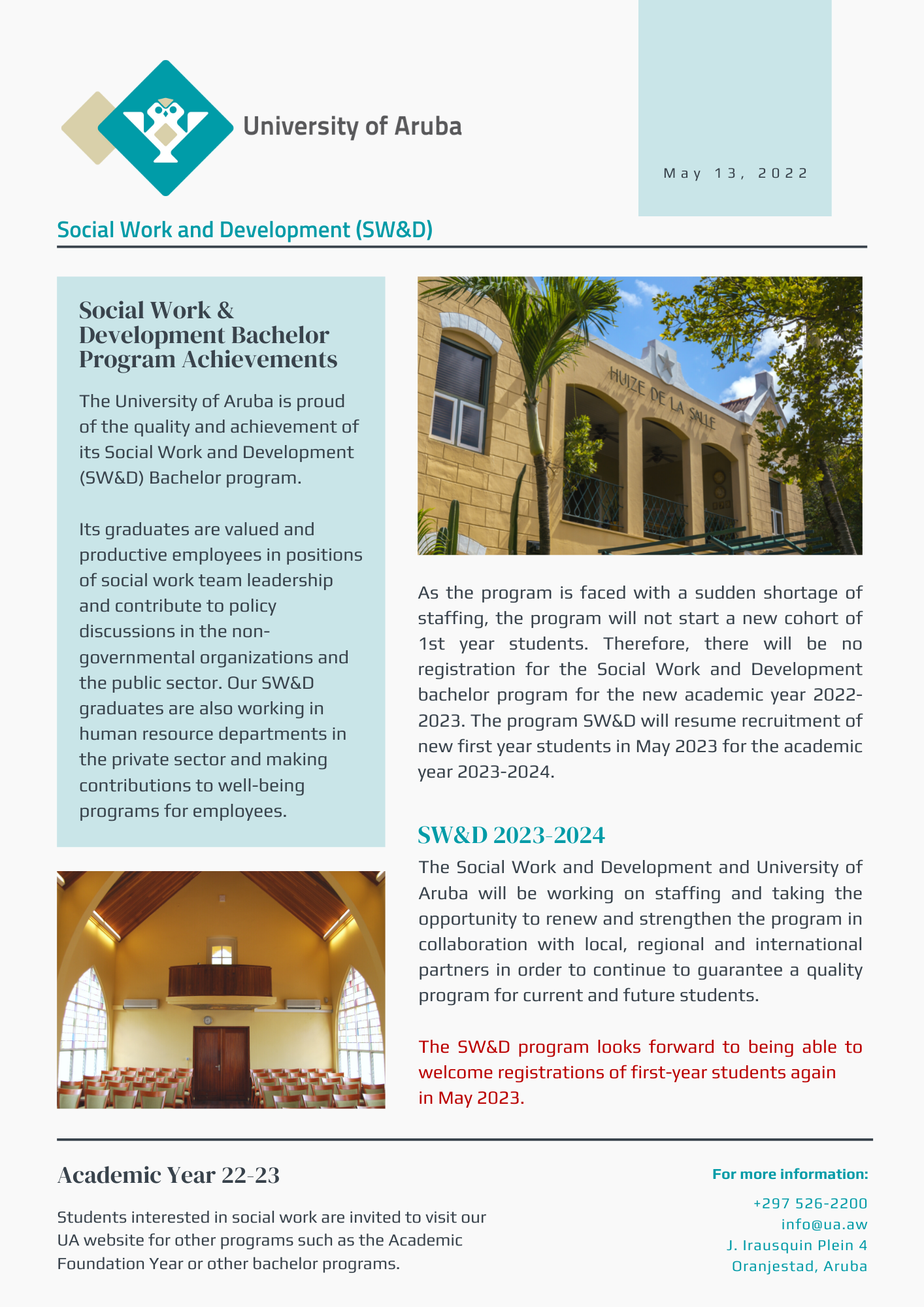 ---
---
Info / Contact
Pa mas informacion por busca den e alfabet menu riba homepage:
Por tuma contacto cu:
Scroll To Top