Lunch na Restaurant Aloe di EPB
October 22, 2018
---
Den cuadro di e lesnan di practica "Koken & Serveren" di seccion Horeca di EPB Oranjestad, studiantenan ta ofrece "3-course-lunch" den nan Restaurant Aloe ubica na Hato.
---
| | |
| --- | --- |
| | E lunch aki ta pa duna e studiantenan e oportunidad pa practica tur e tecnicanan cu nan a siña relaciona cu trabou den un restaurant. Bou guia di nan docentenan, e alumnonan mes ta cushina, prepara y sirbi e cuminda na publico. |
Tur practica ta termina cu un evaluacion di parti di e docentenan y tambe di e publico cu ta asisti na e lunch.
E lunch ta wordo ofreci na publico tur diamars, diaranson y diabierna, entre luna di Oktober 2018 y Maart 2019.
E lunch ta wordo sirbi pa 12:00 di merdia y tin un duracion maximo di un ora y mey. Door cu e ta un situacion di les, mester haci reservacion delanta y no mas laat cu diahuebs.
Ta pidi encarecidamente pa ta na tempo, por lo menos diescinco minuut promer pa e lunch y si en caso mester cancela, haci esaki por lo menos un dia delanta.
---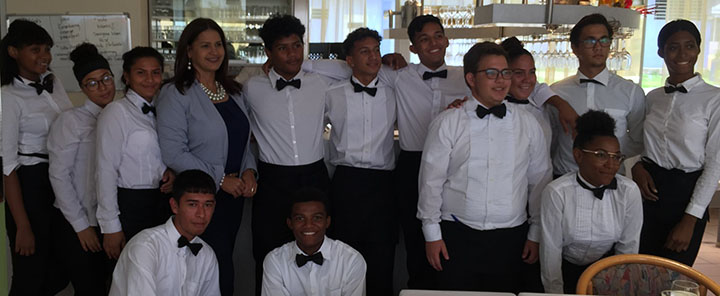 Potret cortesia di EPB
---
Pa reservacion por yama docent François Maduro na tel 528-9791 y pidi pa ext. 152 of Cel/whatsapp 5639042 of fax na 582-9789.
Pa solamente 30,00 florin publico por gosa di un tremendo "3-course lunch" cu tambe ta inclui koffie of thee na Restaurant Aloe di EPB Oranjestad.
---
Menu
Aki por download e menu:
> Menu Restaurant Aloe EPB Oranjestad 2018-2019
---
Info / Contact
Pa mas informacion por busca den e alfabet menu riba homepage: [E] Educacion Profesional Basico (EPB)
Scroll To Top