Algun dia extra pa inscribi pa Landsexamen 2019
October 4, 2018
---
Seccion Examenbureau di Departamento di Enseñansa Aruba ta informa cu inscripcion pa Landsexamen 2019 ta habri pa algun dia extra, esta te cu diaranson dia 10 di october 2018.
E formulario pa inscribi ta obtenibel riba website di Departamento di Enseñansa Aruba [ea.aw] entrante dia 1 di september 2018.

E candidato lo mester download y yena e formulario pa inscribi y entrega e formulario yena completo y corecto hunto cu un uittreksel di Bevolkingsregister di Aruba na bali di Examenbureau na [Belgiëstraat #2].

Tur inscripcion cu drenta despues di dia 10 october 2018 y esnan cu no ta yena completo no ta bini na remarca pa wordo procesa.

Candidatonan cu ta cumpli cu tur reglanan di inscripcion y a pasa e "screening" ta wordo notifica pa pasa entrega tur documentonan necesario y recibo di pago pa completa e inscripcion.
---
Participacion
Na landsexamen MAVO/HAVO/VWO 2019 por participa esnan:
1
a
cu a entrega nan formulario di inscripcion na tempo (prome cu dia 1 october  2018), yena completo y na e instancia concerni.
b
cu a paga na tempo e suma concerni pa por pasa examen.
c
cu entrante 1 april 2019 tin e edad di:

17 aña of mas pa por participa na e landsexamen mavo;
18 aña of mas pa por participa na e landsexamen havo;
19 aña of mas pa por participa na e landsexamen vwo.

2
Excluyendo punto 1, por participa tambe na landsexamen esnan cu ta bay un mavo, havo of vwo scol y cu kier logra un "1-vakdiploma" riba e mesun nivel di scol cu nan ta siguiendo. E materia aki no mag forma parti di e pakete di materianan cu e candidato a scoge na scol.
Certificadonan obteni na Aruba ta valido pa un periodo maximo di 10 aña entrante 1 augustus 2012. Esaki ta nifica cu certificadonan mas bieuw cu 10 aña no por wordo uza mas pa obtene un diploma di VWO, HAVO of MAVO.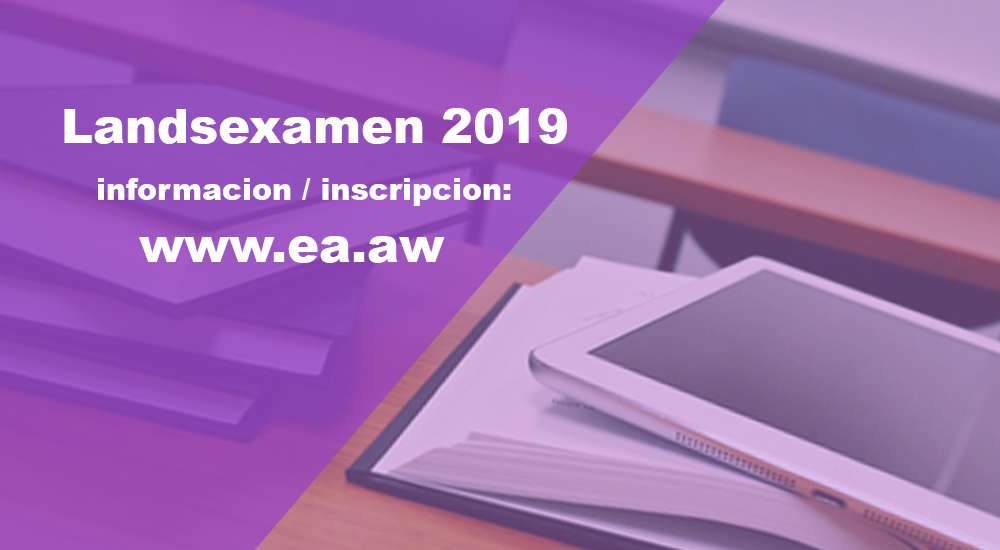 ---
Info / Contact
Pa mas informacion por busca [L] Landsexamen den e alfabet menu riba homepage of por tuma contacto cu DEA | Examenbureau
Scroll To Top